Featured Venue: Eagle Creek Golf Club
The beautiful Eagle Creek Golf Club is located in the heart of Lake Nona. We asked catering manager, Heather, to give us a little insight to this incredible venue.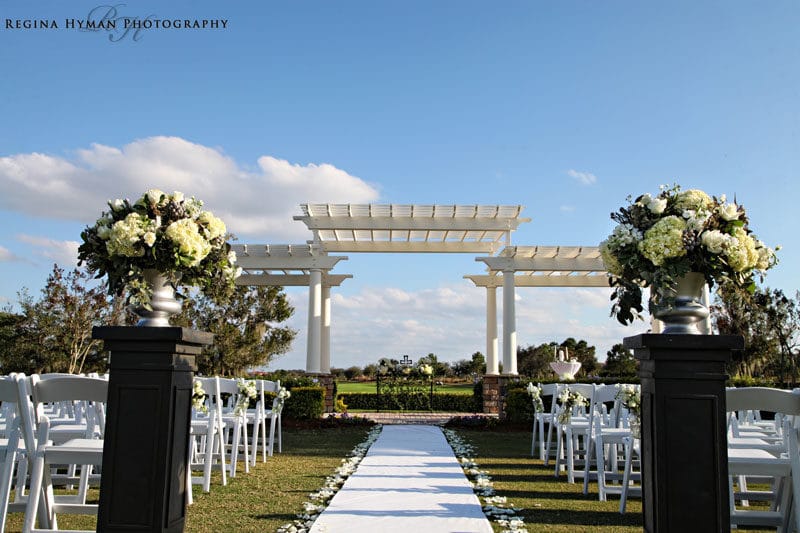 Photo: Regina Hyman Photography
What makes your venue unique?
Eagle Creek offers fully customizable packages for all rentals & food & beverage options, we can create an event for any budget and needs. We also offer both indoor and outdoor ceremony and event space for all of our events, we only hold one event per day so your event is always top priority for our staff. The ballroom has floor to ceiling windows with panoramic views and dual balconies overlooking the 18th green and pond. The outdoor pergola lawn is located adjacent to the rear of the old English manor style clubhouse also overlooking the water. We work directly with you to create your special event.
What style of wedding works best for your location?
Though we are a old English manor style clubhouse we can accommodate anything from rustic to classic and everything in between. We do have cedar exposed beams in the main dining space so a rustic romantic event fits perfectly in our space.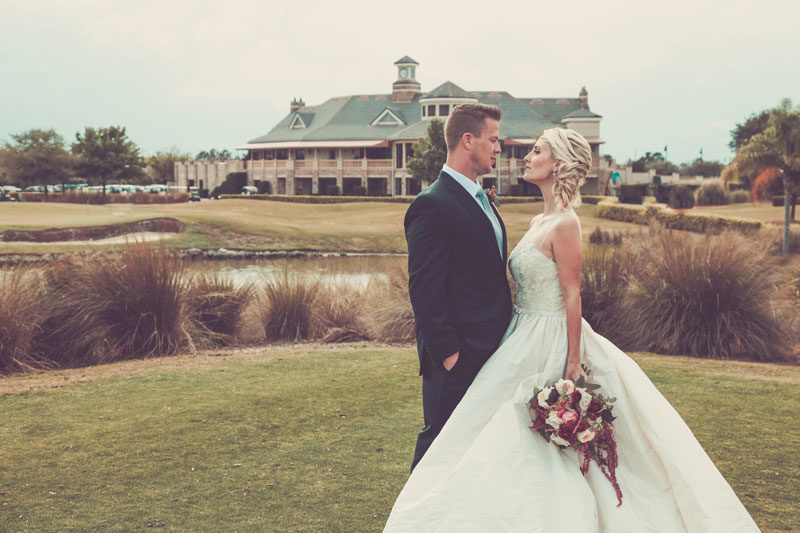 Photo: Tabitha Photography
Do you have location(s) for a ceremony?
We do offer an outdoor location for your ceremony on our Pergola Lawn overlooking the 18th green and pond. We also have 3 backup plans in doors for any inclement weather.
How many guests will your venue hold?
Indoors we can hold up to 150 guests for a seated event with a dance floor, and all event tables needed; we can also accommodate up to 200 cocktail style. Outdoors we accommodate up to 250 for catering on the pergola lawn either under a tented event or market lights.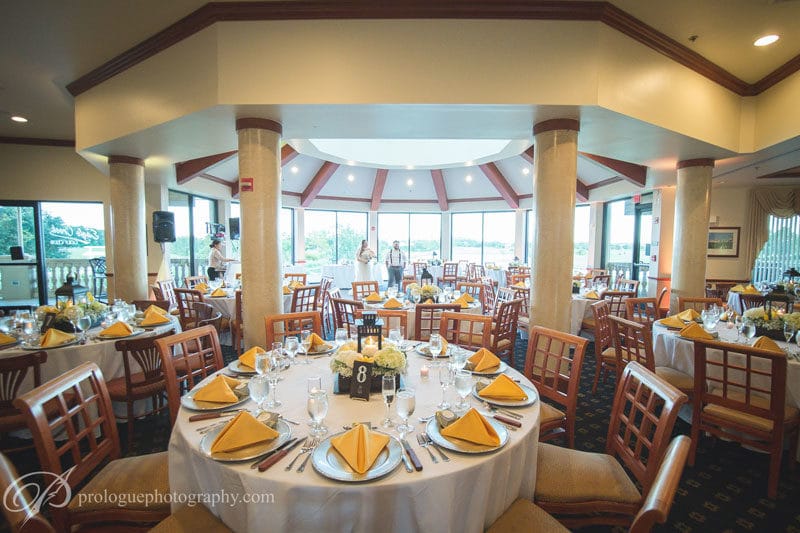 Photo: Prolouge Photography
What are your catering requirements?
We do require that we provide all of the catering on property with the only exception being your celebration cake. We can fully customize any menu to fit your needs as well. We have a food & beverage minimum of $2500 for Saturdays during peak season.
What packages do you offer?
We have many packages from one entrée buffet with no bar up to a 4 entrée plated meal with full 5 hour premium bar. Everything is customized based on the individual event needs. Please contact us for more details.
What Wedding Pros Love About Eagle Creek Golf Club:
"From a photographers point of you, I love working at Eagle Creek. There are so many options for photos. You can work there several times and not use them all. Receptions on the grand lawn are my favorite, it's just so gorgeous. Also, the staff is so friendly and accommodating."
Tabitha of Tabitha Photography
Click here to see more from Tabitha Photography
"My favorite part of Eagle Creek Golf Club is the beautiful pergola. It is a statement piece that commands attention, which allows couples to be framed perfectly on their wedding day. It need nothing, yet can be dressed up with draping, flowers, and chandeliers and carry it with a beautiful softness. Another aspect I like is the ability to transform the reception space. With the neutral colors and the large windows, any style of design and any set of colors will always look beautiful!"
Sarah of Bluegrass Chic