Featured Venue: Sunny Acres Lodge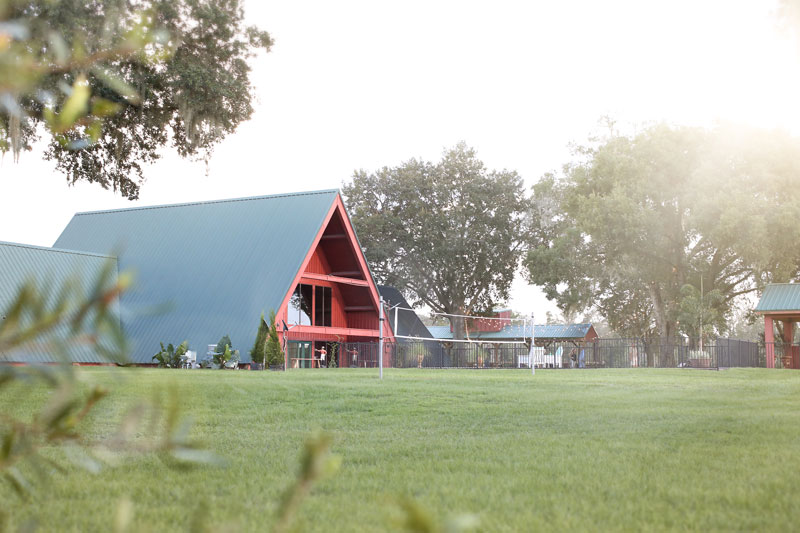 Photo: Life Long Photography Studio
What makes your venue unique?
We feel Sunny Acres Lodge is unique because it truly offers couples the ability to have elegance in the country without being limited to a "barn wedding" Our lodge screams Old Florida with pecky cypress walls and red brick flooring throughout the entire air-controlled venue. Therefore, we're able to easily accommodate up to 200 of couples' closest family, friends and loved ones on their special day without having to worry about the Florida heat or afternoon storms! We also feel we're unique due to the fact we have lodging on-site for up to 40 guests! Sunny Acres has (4) bunk rooms each with their own bathroom facilities. We are happy to provide you and your closest family/friends with overnight accommodations that include a welcome reception, bed-sheets, pillows, comforters and guest towels.
What style of wedding works best for your location?
The wedding style that works best for our location is ANY style. We have done everything from Old Florida style, rustic, rustic whimsical, romantic, and even a few bohemian weddings that included birch wood tee-pees. Our lodge has exposed beams, high ceilings, and a true lodge feel making adding a touch of elegance to any wedding!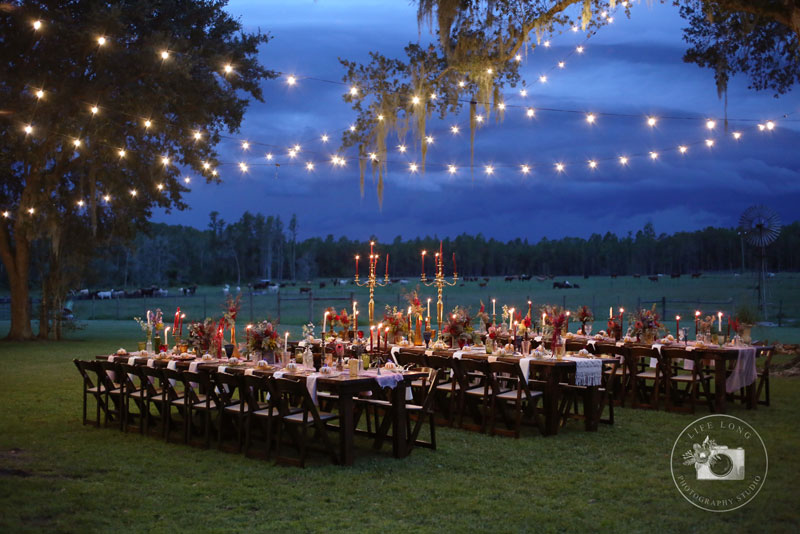 Photo: Life Long Photography Studio
Do you have location(s) for a ceremony?
Yes, we currently offer three ceremony locations. We have our brick-pavered aisle to a gorgeous wooden arbor. We have our chapel doors that are located under our lush oaks with a full view of our 1,200 acre cattle ranch, and we have our newest ceremony site located near a beautiful pond on-site. However, we have our "woodlands" location currently under constructions, so couples can choose to get married under the pines.
How many guests will your venue hold?
Our lodge can accommodate 200 guests for a seated reception indoors OR you can choose to host your gorgeous wedding day outside for an evening under the stars (and Bistro lights) with up to 800 guests!
What are your catering requirements?
We have preferred vendors who we love and adore because we can guarantee TOP quality food and service! However, we will work with all couples on a case by case basis should they have their hearts set on something else as long as they are licensed and insured.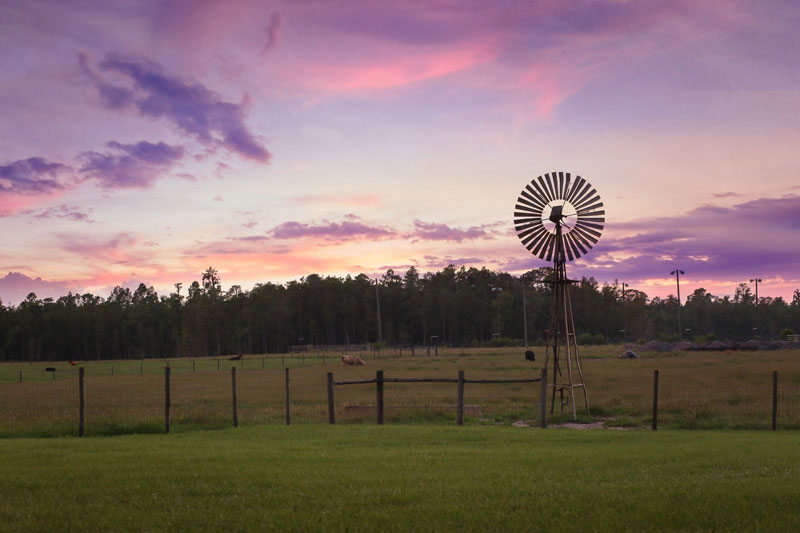 Photo: Life Long Photography Studio
What packages do you offer?
We offer three different packages for Sunny Acres Lodge couples. We truly try to create packages that allow couples to create their own story book wedding that they've been dreamt of for years prior. We offer couples Wedding Day Venue Rentals, All- Weekend Wedding Venue Rentals, and all- inclusive packages for both day of and weekend wedding experiences.
What advice would you give brides when deciding on their wedding venue?
The best advice we can give you is choose a place that feels like HOME! Think about the things that really matter to you and your fiancé... Is it finding a place that reminds you of your childhood? Do you want an outdoor venue with a cozy and rustic elegant feel? Do you want a place that has time limits so you two newlyweds can be on your way, off to that honeymoon location or a venue that allows you to stay a while enjoying your guests into the late hours of the night! When you walk into the venue and it's a place you don't want to leave then you know you're in the right spot!