Tips for Having a Summer Wedding in Central Florida
When it comes to setting your Orlando wedding date, you maybe looking to have a summer wedding. The summer months, from about mid-June to mid-September, in the Greater Orlando area are part of what is considered slow wedding season. Due to this, getting married in the summer is the greater likelihood of venues/vendors possibly providing deals to fill their calendar, which is a nice perk. However, there are definitely unique challenges. Check out our top tips for making sure your summer wedding goes off without a hitch.
Tip 1: Prepare a Rain Plan
If you've been in Central Florida more than a few summer days, you've learn that there is like a 99.99% chance it's going to rain in the afternoon/evening. This is why a rain backup plan is essential for your wedding day, especially if you have an outdoor venue. Local rental companies like Orlando Wedding and Party Rentals provide services that allow you to reserve a tent. This way you aren't scrambling the day of. Of course, no one wants rain on their wedding day but if it does happen, try to make the best of it. We have seen some gorgeous couples portraits in the rain! So make sure to have a clear umbrella on hand if the weather forecast is leaning that way. Anyway, isn't it good luck to have rain on your wedding day?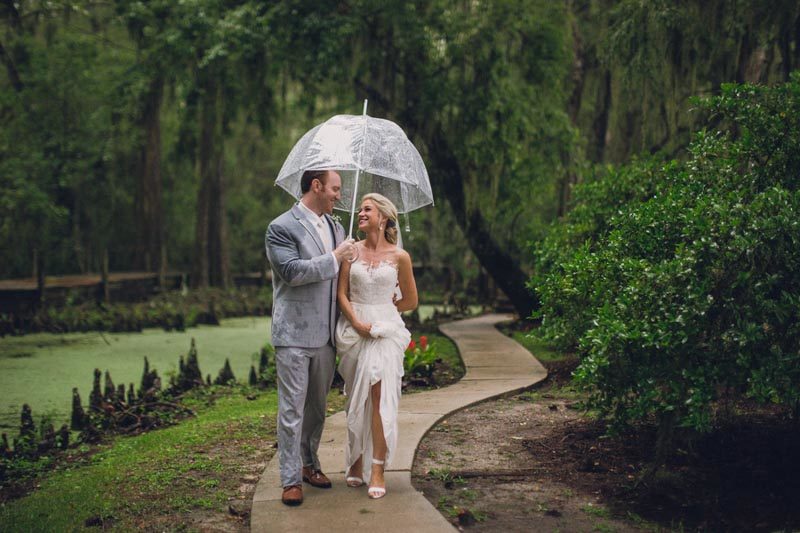 Photo: Lora Rogers
Tip 2: Have Hurricane Insurance
Rain on your wedding day, although inconvenient can usually be worked around. When Mother Nature kicks it up notch with a hurricane, then you have a whole different ballgame! If you are getting married in the summer, or the hurricane season months of June-November, cancellation insurance (your protection if a hurricane cancels your wedding) is a must. Because here is the thing, if you hold out and then a storm forms, you will no longer be able to purchase it. Insurance companies will not write policies when there is a named storm. In the end you may not need to use it, but think of it as a protection of your investment. If there is no avoiding a hurricane cancelling your wedding day, check out this article on Tips for Dealing with a Hurricane on Your Wedding Day.
Tip 3: It's Going to Be HOT, Plan Accordingly
Central Florida summer are hot for everyone, but they can be even more difficult for your elderly guests or anyone with health issues. Make sure that you have water and shade for them if needed, especially if you're having an outdoor wedding. Also, be mindful of yours and your wedding party's attire for the day. As you dress shop for your wedding, keep in mind that since it's going to be pretty toasty, it may be best to go with a lighter fabric, like chiffon or tulle. This also goes for your bridesmaids' dresses.

Photo: Sophia's Art Photography | Cake: Cake Designers | Florist: Events by the Flowers Studio
Tip 4: Keep Your Cake Out of the Elements
Heat and buttercream don't mix well! Between the heat and the humidity, wedding cakes do not fair well in the outdoors in Florida, especially in the summer. In fact, many bakers have in their contracts that they can't guarantee what will happen to your cake when left outdoors. If you have to have your wedding cake outside, lets say because your whole venue is outside, then place in a location of the venue with the most shade. Nothing puts a damper on a cake cutting, then when the buttercream has melted and the layers of your wedding cake have fallen to the floor.
Tip 5: Get Your Hair and Makeup Professionally Done
You're going to want to look your best on your wedding day! Not just for the day but for the photos that you will be looking at for a lifetime. Since your hair and makeup will be a key factor in giving you that finished look, hiring a professional hair and makeup artist is a must. Professional Central Florida hair and makeup artists are use to working with the challenges that the local weather brings. They also have the right products to give you that flawless look to last through your wedding day!
Tip 6: Have Bug Spray
Mosquitoes can be rough in the summer months. As you are saying reading your vows, you don't want your wedding guests to slow be eaten alive but these flying blood suckers! Provide a bug spray station for guests so that they can focus on your beautiful wedding not swatting mosquitoes away.